Computerised assessment for pupils of ALL abilities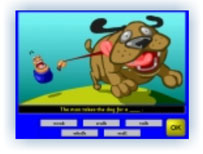 Visual Memory
Auditory-verbal memory
Phonic reading skills
Phonological processing ability
Single word reading
Sentence Reading
Spelling
Reasoning
What does LASS 8-11 enable the teacher to do?
LASS (8-11 yrs) is very easy to administer. Students require only minimum supervision while doing tests. LASS enables teachers to identify students with dyslexia (specific learning difficulty) but it has many other important functions as well, including:
Assessing attainments in reading and spelling
Measuring discrepancies between actual and expected literacy attainment
Identifying underlying problems in memory or phonological skills
Monitoring development in reading and spelling on a regular basis
Evaluating progress in memory, phonological and phonic skills
Estimating the student's intelligence
Providing support evidence when applying for special arrangements in examinations
Reasoning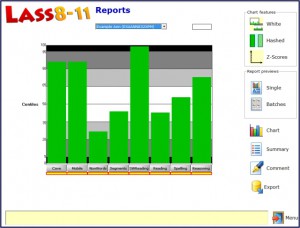 LASS 8-11 Lucid Assessment System for Schools (ages 8-11) – Graphical Profile of results Interpretation of LASS results is straightforward, using the accompanying comprehensive teacher's manual. Percentiles, standard scores and age equivalents (including reading and spelling ages) are given. Results, in the form of graphical profiles and individual response records, clearly show childrens' strengths and weaknesses in comparison with national norms. Use of a standardised graphical profile makes it easy to spot students who are underperforming.
LASS standardised norms cover the full ability range from below average to above average pupils. Any difficulties of a dyslexic nature or caused by underlying cognitive problems in phonology and/or memory can swiftly be identified. Assessment can be carried out on a regular basis to monitor progress. This information can be used in formulating Individual Education Plans (IEPs) and is valuable when considering whether or not to request a formal assessment by an educational psychologist. It can also be used as supporting evidence when applying for special arrangements in GCSE and other examinations.
Adaptive assessment in about 45 minutes
Enjoyed by even the most reluctant students
Easy to interpret
On CD or for Networks
Single word reading
Currently used in over 5,000 schools